Communication Toolbox Providing Support for Wildland Fire Management
WFM RD&A Expands Communication Support
Alison Mims, Visual Information Specialist with the WFM RD&A, provides communication support to wildland fire incidents and pre-crisis efforts. Support includes coaching/mentoring staff, providing communication training and guidance, and producing media products. Contact alison.mims@usda.gov for more information.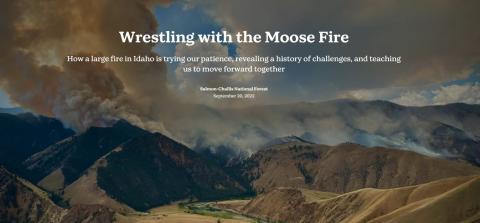 Sharing ABT Narrative Framework with Wildland Fire
WFM RD&A is introducing wildland fire management to a simple, but powerful communication tool known as the ABT (And-But-Therefore) Framework. This narrative tool, developed by Dr. Randy Olson, can be a perfect fit for those with or without communication backgrounds to quickly elevate the effectiveness of their communication. Learn more about the training, resources, and practice of the ABT Framework in wildland fire.
Support for Wildfire Crisis Landscapes
WFM RD&A communication and fire & fuel analyst staff will be working with other efforts to support Wildfire Crisis Strategy landscapes.
Do you need help using tools like IFTDSS or could use some decision support? Do your communication efforts need some updating to help enroll the public?